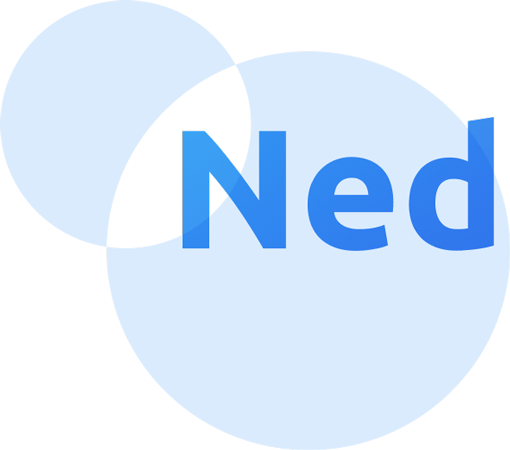 More than a third of business owners get funding from friends and family. But it's stressful to create terms, document a deal, and then make sure you get paid back.
Ned makes it possible to create win-win funding agreements in minutes.
Forget about risky handshake deals or feeling uncomfortable when you try to support a business owner that needs your help.
Keep it easy by building a relationship around revenue sharing. Create fair and fast deals that make everyone happy. Automate everything so you can have peace of mind.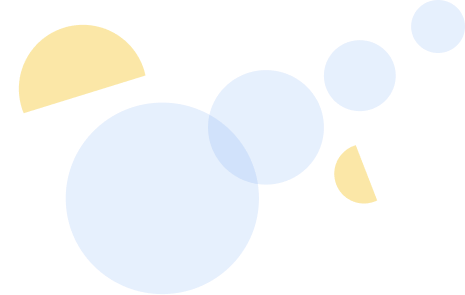 How To Get Started
With Ned, you're in the driver's seat. Feel confident when someone asks you to fund their business. Provide the money they need and get paid back over time with their revenues.
Step 1.

Draft Your Deal
Either a funder or business owner can send terms to review.
Funders can build a fair and fast deal in 5 minutes with easy options.
Set your Funding Amount and the Future Revenue Share you want to get back over time.
You can even include a Bonus to the funder so you can make a little extra as the business grows.
Step 2.

Send and Sign
Send terms to the business owner that's asking for funds. Let them review it and adjust things if they have changed.
Ned takes your terms and puts them into an Revenue Share Agreement for everyone to sign.
Make sure to review everything before finalizing.
Sign the dotted line and start a partnership!
Step 3.

Send Funding
After signing your agreement, Ned connects you and your new partner by integrating bank accounts.
You can send an ACH transfer to the business owner's account within minutes.
Step 4.

Get Paid Back
Revenue sharing begins when funds are transferred!
Ned debits the agreed-upon Future Revenue Share from your partner on Fridays and transfers it to you.
You have an option to give the business owner some time - up to three months - before they can start paying back
This process repeats until you are fully repaid.
Step 5.

Track and Manage
Review and track Revenue Transfers from a user-friendly dashboard. There aren't uncomfortable convos or a need to track down your business partner. Ned does the work and keeps communication open.
Product Features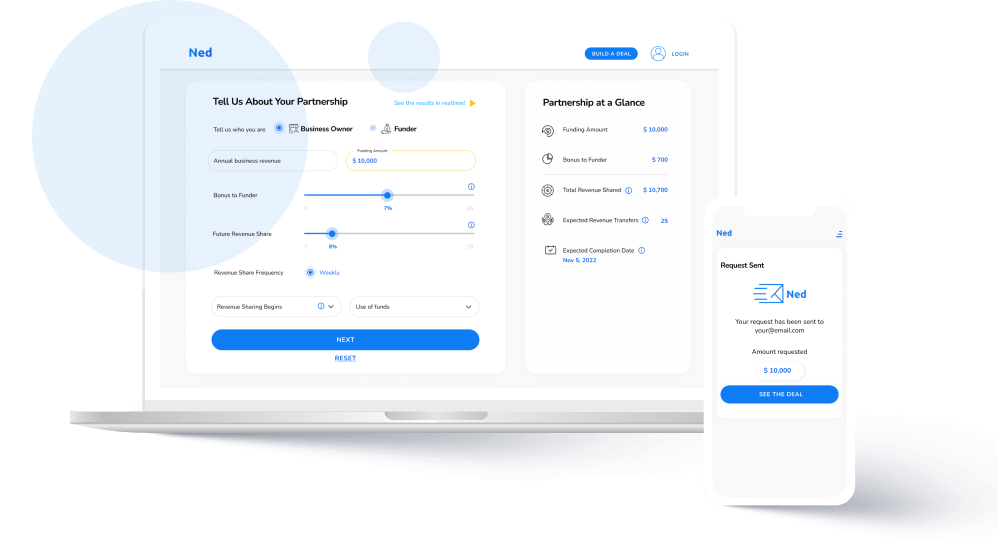 Ditch Lenders. Set Your Own Terms.
Strike direct terms
Beat other options
Easy documentation
Get money fast
Automated repayment
Flexible costs
Keep it all confidential
How Ned Makes Money
Ned charges a 2.5% fee on all ACH transfers between partners, except for transfers associated with a Bonus to the funder which are free of charge.
Fees are netted out of transfers. They aren't incremental.
Everyone sees fees clearly labeled on their bank statements.
For more specifics on pricing visit our FAQ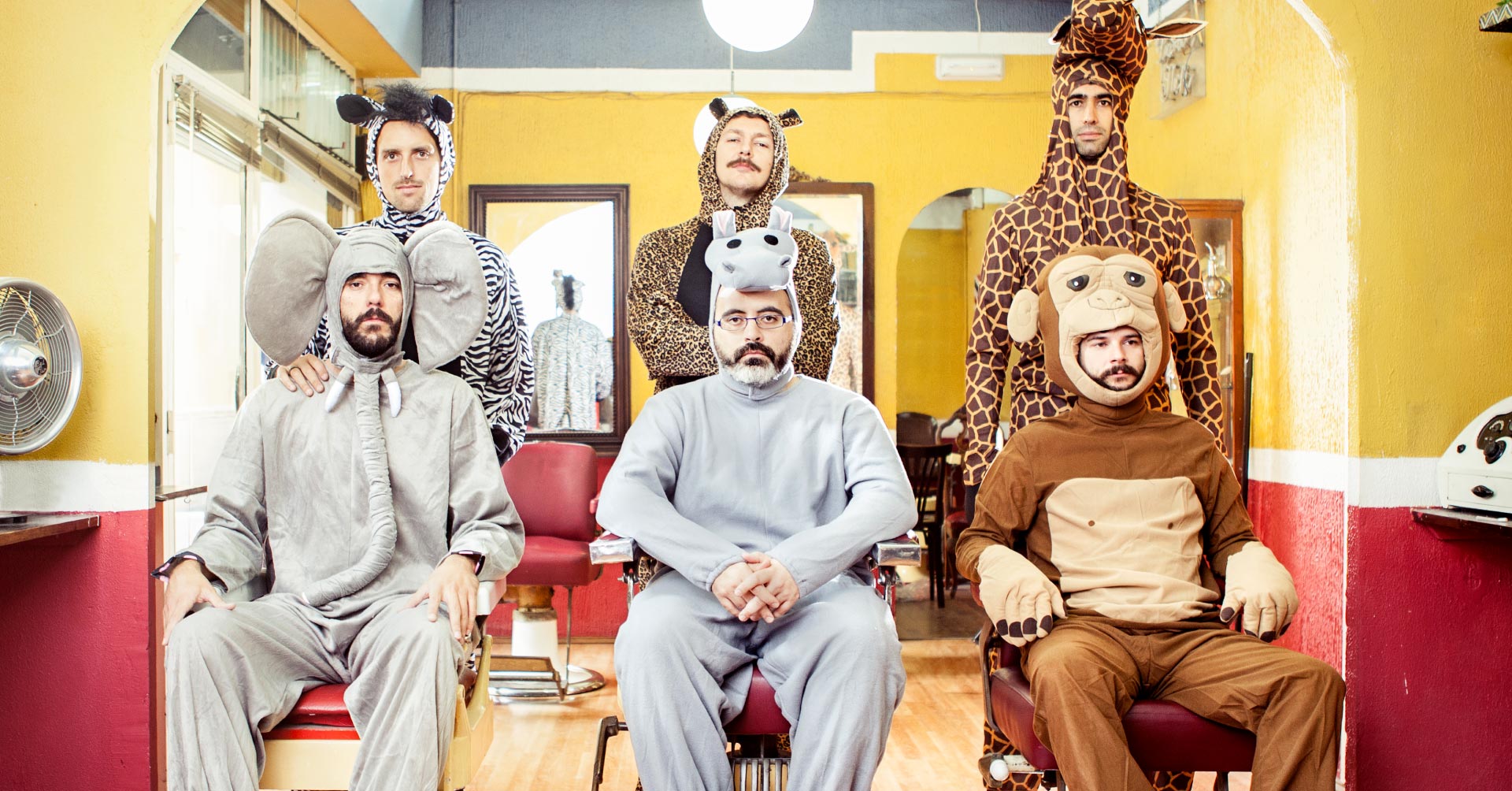 Ned's House Rules
We created simple rules for those using our platform to maintain fairness for everyone.
Why? Funders shouldn't strike terms that stress a business out, and business owners shouldn't ask for funding they can't feasibly repay.
Can't fund more than 15% of a business's annual revenue
Can't ask for a Bonus of more than 15%
Can't ask for a Future Revenue Share of more than 15%
Need to make $50,000 in annual revenue
Can't ask for more than 15% of average annual revenue
Can't repay a funder with a Future Revenue Share of more than 15%
Can only have one funding relationship
Over time these criteria might shift as we learn how our users want to work with us.
Build Your First Deal Now
Don't wait. Invite your partner with Ned to get the funding you need.
Build a Deal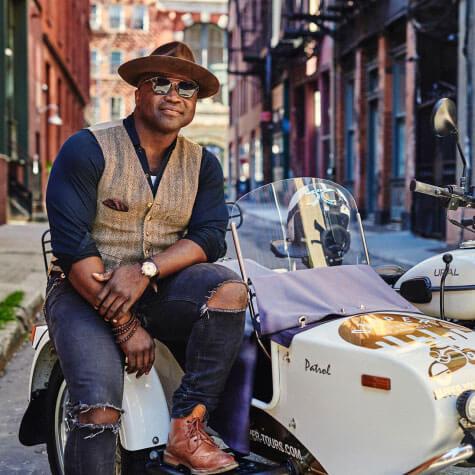 "I needed to fund a marketing budget so I approached my personal network to help. The reality though is that putting structure around a deal like that can be very difficult. Ned makes it easy to build and manage a partnership that's fair to everyone."
Will Davis
Chief Experience Officer,
Dapper Tours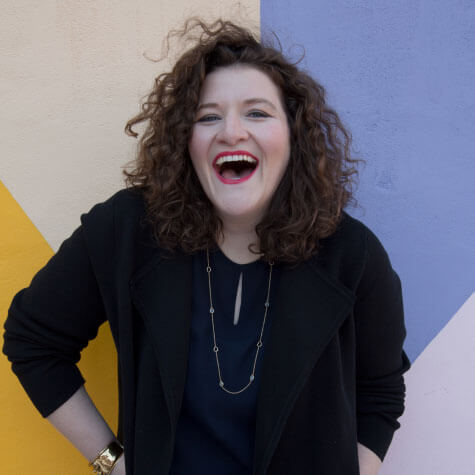 "I'm planning to hire talent so I can grow my events business and I need to keep things professional when I ask those that I know personally for the funding. Having the ability to set simple terms and to manage a partnership with a real contract is game changing."
Sarah Schecter
Founder
SRS Events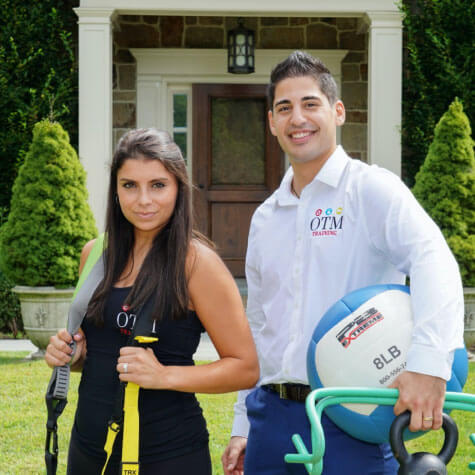 "We never liked the idea of getting a loan from a bank and when COVID hit we got funding from our family. Ned gives us the tools we need to partner safely with those we already know and trust."
Marc and Monique Buccelato
On the Marc Training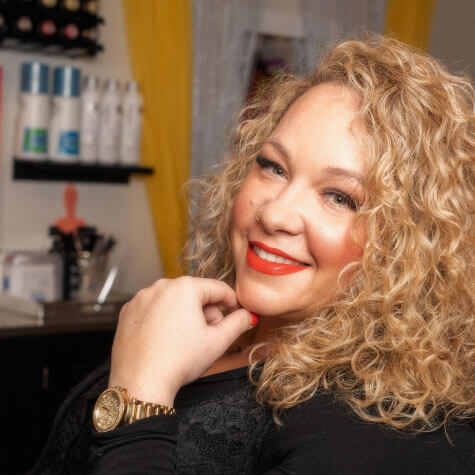 "Business owners should feel confident when they raise money from friends and family. These situations are really uncomfortable, and we need better tools to help us stay in control. With Ned, we can build simple, professional funding requests and set the terms that are best for our businesses. It makes a tough process easy for everyone.."
Adriel Frantom
Owner, Adriel Nicole Salon